pret pe buc,
Descrierea
LAN Gigabit, RS-232 pentru UPS, eMAP, conectare prin aplicatie de pe telefon mobil
PLANET NVR-3210 is the new model of Network Video Recorder (NVR) series designed for IP surveillance system. Users can just turn on cameras and the NVR to easily protect their office and property under the Ethernet / IP networks. The recorded video files can be saved in the NVR and no need of using additional PC for files storage, which brings users a secure surveillance system with lower total cost.
The NVR-3210 provides powerful central surveillance management capability with its bundled Central Management Software (CMS). One NVR-3210 can manage up to 32 IP cameras via a connected IP network. With the bundled CMS, the NVR system is expandable for multi-sites management of up to 1024 surveillance channels simultaneously*. With the NVR-3210, users can view remote surveillance in real time and play back recorded videos via the bundled CMS software or the web browser. The NVR also helps the administrators to monitor the surveillance system more efficiently by providing multi-monitor and E-Map function.
The NVR-3210 not only supports PLANET IP cameras but also is compatible with most of major IP camera brands in the market. Furthermore, the NVR-3210 can automatically search and find the available cameras in the network and provide smart setup wizard program, so it greatly reduces users' effort when setting up the system.
The NVR-3210 is suitable to fit in various network environments. Besides for small scale applications in retail stores and SMB, the NVR-3210 offers 4 SATA HDD supporting RAID 0 / 1 / 5 / 10 function and able to be applied in large scale surveillance such as bank, enterprises, transportation, campus and etc.
* The full version of CMS software can be purchased additionally to manage up to 1,024 channels by working with the NVR-3210.
The NVR-3210 can be controlled and monitored both in the local LAN and the remote site via Internet. For example, it helps to enhance the security of the bank ATM and school environment through remote surveillance monitoring and management. Users can also login from their mobile phone to check the monitoring screen when there is no PC available.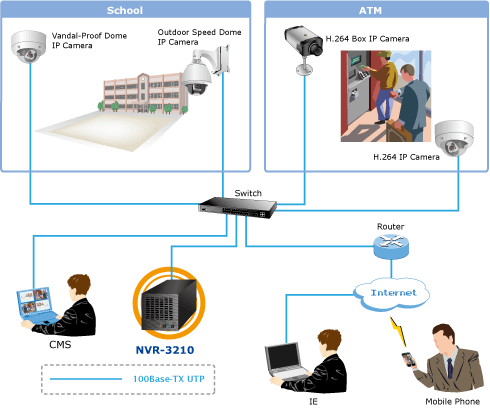 The NVR-3210 enables the administrators to simultaneously monitor the multisite surveillance up to 1,024 channels* via its bundled CMS software, multi-monitor and E-Map functions..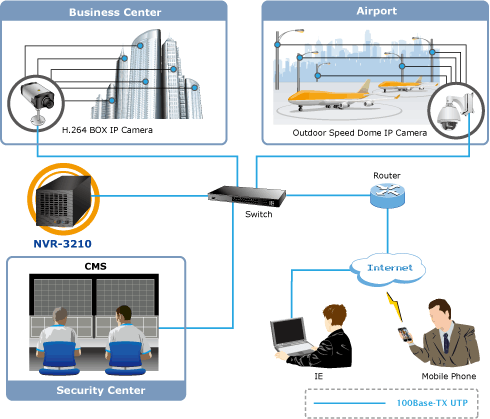 * The full version of CMS software can be purchased additionally to manage up to 1,024 channels by working with the NVR-3210.
 Main Function:
Simultaneous Recording and Live Video Streams
Supports M-JPEG / MPEG-4 / H.264 multiple compressions
Manual or schedule recording of 32 IP cameras simultaneously
Video resolution up to 5MP (2560 * 1920)

Management:
Video recycle function makes the video recording at 24/7
Web-based and management utility for easy configuration
Two-way audio function
E-Map interface in web and utility configuration
Auto discover by management software
Smart IP camera search
Exports record video file to AVI format
Multiple languages support
Supports mobile phone remote view with Android, WinMo, Symbian S60, iPhone, Blackberry 4.6
Manage up to 32 NVRs (max. 1,024 IP camera channels) with the management software

Hardware:
Supports real-time clock (RTC)
Gigabit Ethernet port
E-SATA / VGA / USB interfaces supported
Audio line-in, line out, mic port
Supports external UPS
Auto power-on and recording after power recovery
Supports 4 SATA HDD (RAID 0 / 1 / 5 / 10)
General
OS
Embedded Linux
Ethernet
1 x RJ-45, 10/100/1000Base-T
USB Interface
6 x USB2.0 for backup device and firmware upgrade
Storage Device
4 x 3.5" SATA hard disk connectors
Button
Power, Reset/Restart
LED Display
1 x Power
1 x System
1 x Event
1 x LAN
Video Input
32 channels IP cameras
Recording Mode
Manual, Schedule, Continuous, Event
E-Map
Web Browser, CMS utility
Network Service
TCP/IP, UDP, DHCP, DNS, HTTP, ARP, ICMP, NTP, UPnP
Management
Web-based administration
Network Time Protocol
Multiple users account
E-mail notification
System log
Firmware upgrade
User Interface
Web browser
CMS utility
Multiple Language
English, German, French, Italian, Portuguese, Spanish, Danish, Russian, Hungarian, Czech, Japanese, Traditional Chinese, Simplified Chinese
Power
100~240V AC, 3.5A / Max. 50/60Hz
Consumption
200W
Operating Temperature
0~40 degrees C
Storage Temperature
-20~60 degrees C
Humidity
5~90% (non-condensing)
Weight
6.5 kg
Dimensions (W x D x H)
318 x 198 x 205 mm
Important:
Orice oferta comerciala prezenta in acest magazin se refera numai la plata in momentul livrarii
Preturile contin TVA. Fotografia afisata are caracter orientativ si poate contine accesorii ce nu sunt incluse in pachetul standard al produsului.
Specificatiile tehnice sunt informative, in conformitate cu datele transmise de catre producatorii sau distribuitorii autorizati; ele pot fi modificate fara instiintare prealabila si nu constituie obligativitate contractuala, aceleasi conditii se aplica si pretului produsului. Toate promotiile prezente pe gsc-online.ro sunt valabile in limita stocului. Echipa GSC face toate eforturile pentru a elimina orice erori.
Fiecare produs beneficiaza de garantia specifica data de catre producatorul sau distribuitorul autorizat in Romania. Toate marcile apartin detinatorilor legali.
Fiecare produs din oferta cu discount beneficiaza de garantie 6 luni.
Pretul serverelor este calculat pentru configuratia Barebone. Nu contine pretul procesoarelor, memoriilor, hard-disk-urilor sau altor componente optionale.HDD-urile se vand numai in configuratie cu serverele din oferta GSC.
Pretul este negociabil pentru cantitati mai mari.
Orice oferta de transport gratuit se refera numai la locatiile care exista pe lista curierului cu care avem contract.Lista o puteti consulta

aici