pret pe buc
Descrierea
High-speed 802.11ac Wireless Experience
The WDL-U600AC offers a reliable and cost-effective wireless extended solution. It adopts the next-generation IEEE 802.11ac 5GHz standard with 1T1R antenna technology and is backward compatible with IEEE 802.11a and 802.11n. The WDL-U600AC supports USB 2.0 interface that integrates with transmitting and receiving data at one channel to enable the speed to go up to 433Mbps for both data upload and download when working with 11ac device.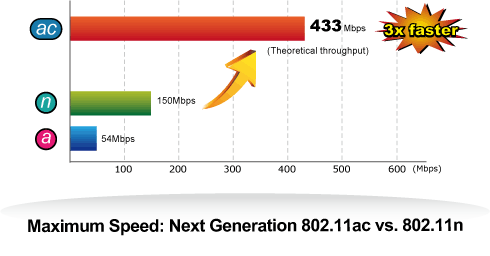 2.4G and 5G Dual Band Wireless Connectivity
The WDL-U600AC is a cost-effective, highly-integrated USB Wireless Adapter adopting the dual band technology that supports 2.4GHz or 5GHz wireless signals on a Wireless Adapter. It fully complies with 802.11a/b/g/n/ac specifications, providing feature-rich wireless connectivity at high standards, and delivering reliable throughput from an extended distance. Its optimized RF architecture and baseband algorithms provide superb performance with low power consumption. The WDL-U600AC Wireless USB Adapter is designed to support standard based features in the areas of security, quality of service and international regulation, giving end users the greatest performance anytime in any circumstance.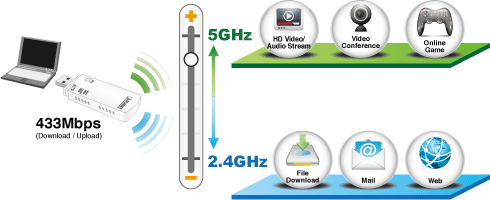 Benefits of High-speed 5GHz Signal
Since there are more and more wireless applications and electric devices using the radio frequency of 2.4GHz, the wireless channel of 2.4GHz has been already too crowded for clients to enjoy the high-speed wireless connection. In order to avoid the wireless interference between each other, the WDL-U600AC provides users with the radio frequency of 5GHz for watching HD videos or playing online games additionally. This function makes the WDL-U600AC more suitable for multimedia applications requiring wider bandwidth.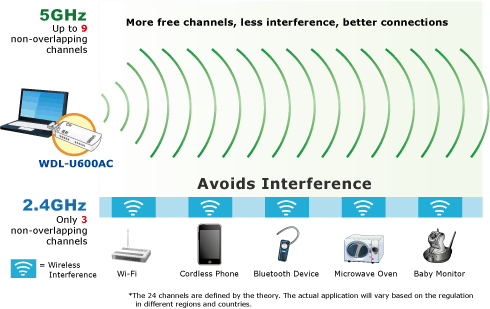 Advanced Wireless Security
The WDL-U600AC provides advanced security features including 64/128-bit WEP, WPA / WPA2 and WPA-PSK / WPA2-PSK with TKIP/AES encryption. Furthermore, in order to simplify the security configurations, WPS (Wi-Fi Protected Setup) function is included to offer a convenient and fast connection method for users as well.
Software Access Point Function for Wireless Connection Sharing
More than just being an adapter for PC and laptop connecting to high speed wireless network, the WDL-U600AC can also become a wireless access point. By applying the USB Wireless LAN Utility included in the package, users can switch the WDL-U600AC operation mode between Station mode and Access Point mode. When the WDL-U600AC is in the Access Point mode, it turns to a Wi-Fi Hotspot. The Wi-Fi supported devices such as iPhone / Android / Windows Phone / iPad / NDS / PSP can connect to it and share the wireless access easily. Therefore, travelers would then be worry free to connect to Internet wirelessly via the WDL-U600AC when there is only wired Internet available anywhere.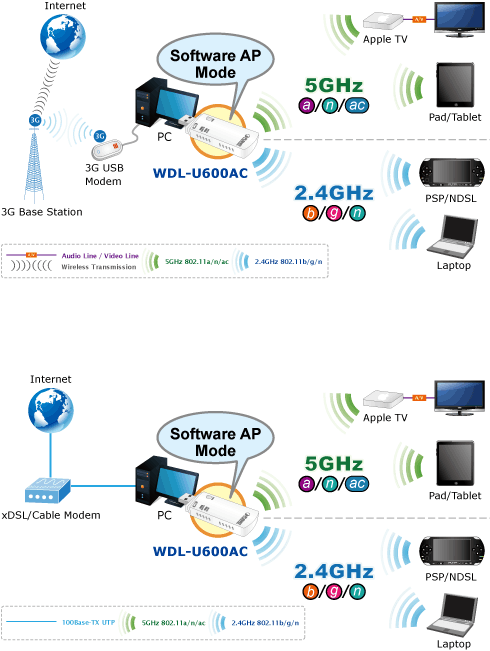 Important:
Orice oferta comerciala prezenta in acest magazin se refera numai la plata in momentul livrarii
Preturile contin TVA. Fotografia afisata are caracter orientativ si poate contine accesorii ce nu sunt incluse in pachetul standard al produsului.
Specificatiile tehnice sunt informative, in conformitate cu datele transmise de catre producatorii sau distribuitorii autorizati; ele pot fi modificate fara instiintare prealabila si nu constituie obligativitate contractuala, aceleasi conditii se aplica si pretului produsului. Toate promotiile prezente pe gsc-online.ro sunt valabile in limita stocului. Echipa GSC face toate eforturile pentru a elimina orice erori.
Fiecare produs beneficiaza de garantia specifica data de catre producatorul sau distribuitorul autorizat in Romania. Toate marcile apartin detinatorilor legali.
Fiecare produs din oferta cu discount beneficiaza de garantie 6 luni.
Pretul serverelor este calculat pentru configuratia Barebone. Nu contine pretul procesoarelor, memoriilor, hard-disk-urilor sau altor componente optionale.HDD-urile se vand numai in configuratie cu serverele din oferta GSC.
Pretul este negociabil pentru cantitati mai mari.
Orice oferta de transport gratuit se refera numai la locatiile care exista pe lista curierului cu care avem contract.Lista o puteti consulta

aici